How to Sell Food Online
Though it may seem simple, there are several actions one must take to begin selling food online. Below, we've compiled a list of steps to help you begin your online food business and guide you towards success.
1. Create a Business Plan
The first step in starting any kind of business should be writing a business plan. Business plans act as a roadmap to help entrepreneurs navigate the process of starting their own company. Additionally, they are essential for securing most forms of financial assistance. Business plans include a variety of information such as your knowledge of the market, ownership structure, and financial projections.
Whether you're selling food online or in-person, the formula for a successful business plan remains the same. Check out our article on how to write a bakery business plan for more information.
2. Apply for Business Licenses and Permits
Make sure you apply for the correct licenses and permits as you start your business. Depending on the nature of your business and where you operate, this may involve interacting with local, state, or even federal branches of the government. Typically, government websites provide license and permit application portals. Expect a registration fee when you fill out application documents. To ensure your business operates within the parameters of the law, be sure to register before any sales have been made.
Some of the most common business licenses include:
Standard business licenses:

 

A business license is a document issued by the government which allows businesses to operate legally and within a specific jurisdiction.
Food handlers licenses:

 

A

 

food handler's license

 

license certifies that an individual is approved by their local government to handle food. They are sometimes accompanied by a food safety course and are aimed at employees and other personell who work with unpackaged food or food-making equipment.
Food establishment permits:

 

A food establishment permit is required for a variety of foodservice businesses. They help to ensure that a business is fit to serve customers and are often accompanied by a food handler's license.
Kitchen inspections:

 

A

 

kitchen inspection

 

allows the local government to ensure that your business is a safe place to produce and sell food. Whether you operate from a store or run a home business, be sure to research local rules and regulations to ensure your kitchen is up to local safety standards.
3. Research Laws and Regulations
In the interest of safety, there are several laws and regulations that apply to selling food online. Similar to most safety guidelines, they vary depending on your location. Below, we've listed some of the most common regulations:
Tax laws:

 

Every business must adhere to tax laws. Rates change from year to year and vary depending on which state you live in, making it essential that you stay up to date on the current laws. Additionally, most states impose a sales tax on goods and services, though that rate can vary as well. For businesses that choose to sell food online, remember that you can be taxed for shipping and handling.
Cottage food laws:

 

Many states have established cottage food laws to aid smaller food sellers. Cottage food laws apply to

 

home busineses

 

that work with low-risk foods. Though the specifics of cottage food laws vary from state to state, they exist to allow smaller food sellers to operate without having to adhere to the same strict regulations as larger companies.
Labor laws:

 

If you plan on hiring help for your business, it's imperative to understand labor laws and how they apply to you. Labor laws are set in place by the United States Department of Labor as well as state and local governments and exist to create a safe and healthy workplace. They can be applied to everything from wages, occupational health and safety, and the employment of minors. For more information on this topic, be sure to read our article on

 

restaurant labor laws.
4. Create a Website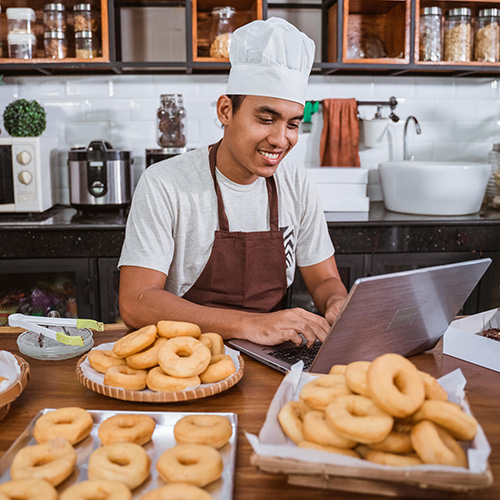 One of the keys to selling food online is creating a quality website. Depending on the resources available to you, this can be achieved in many ways. Some business owners have the option to hire a professional to design their website. In other cases, businesses utilize web design services such as Wordpress or Squarespace. If you choose to use a service, be careful to pick one that is affordable and easy to understand. As you create your website, be sure to pick a theme that reflects what you do.
When it comes to choosing a domain name, remember to choose one that is specific to your business. Given the breadth of the internet, there will be several businesses across the globe that share a similar, if not identical, name. For this reason, choose one that will stand out as being unique to you. Doing so helps to set your business apart from others and make it easy for customers to identify you.
5. Purchase Equipment and Supplies
To be prepared for selling food online, be sure to purchase the necessary equipment and supplies to keep your business running efficiently. The type of equipment required to do so varies depending on what you sell, however, there are several products that all businesses will need. Below, we'll investigate some of the most common categories of equipment you should consider purchasing:
Kitchen equipment:

 

Whether you're preparing food from home or

 

leasing a kitchen space, it's important to make sure you have the right equipment for the job. The size of your kitchen and the food you plan on cooking will determine what equipment you need to purchase.
Packaging supplies:

 

Selling food online requires you to package and ship food to customers around the world. Be sure to invest in quality

 

shipping and packing supplies

 

to enhance the customer experience and keep their food safe.
Online ordering software:

 

To keep track of orders and make sure that every customer gets what they want, you'll need to invest in some kind of online ordering software. There are a variety of companies and systems available, each of which has its own unique features.
---
How to Ship Food
To succeed as an online food seller, you need to build a strong understanding of how to ship food. Below, we've outlined some of the most common factors to keep in mind as you send food to your customers:
Packaging:

 

When you package your food, pad the box with bubble wrap or tissue paper. This will limit movement and reduce the risk of damage. Take extra care to create an air-tight seal around any baked goods or foods that must remain fresh.
Storage:

 

When it comes to storage, choose an insulation material that best fits the food you are shipping. For example, if you are selling frozen items, it's best to use a sturdy container. Be sure to store products at food-safe temperatures to

 

avoid the danger zone

 

and prevent foodborne illness.
Shipping:

 

As you ship your foods, be sure to choose the correct shipping time. Perishable foods should be sent using express shipping to minimize any risks.
Back to Top
---
Food Labeling Requirements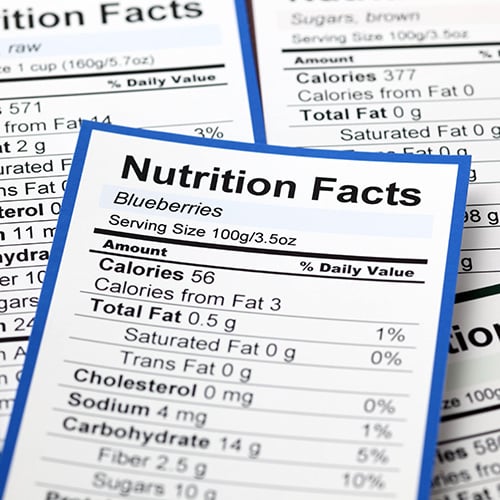 Any business that packages its own food must take steps to label it's products. In the United States, the Fair Packaging and Labeling Act requires businesses to disclose all ingredients included in a product as well as the quantity and weight of what was used. In addition to this, businesses must include their name and location on the label.
To keep customers safe, it is also required to list any allergens that may be included in a recipe. This makes it easy for customers with alternative diets and dietary restrictions to determine whether a food is safe to consume. Common allergens include:
Milk
Eggs
Nuts
Seafood
Soy
Wheat
Gluten
---
How to Market a Food Product Online
With the plans for your online food business finalized, it's time to consider how you'll create awareness for your products. Unlike restaurants and traditional foodservice establishments, online sellers can't rely on walk-in guests for revenue. Instead, they must rely on alternate sales and marketing methods. Consider utilizing the following strategies as you navigate marketing your new business:
Social media marketing:

 

In today's world,

 

social media

 

is a valuable tool for any business. When used correctly, it can help to develop your brand, engage with customers, and build awareness for your products. Consider taking advantage of social media platforms such as

 

Instagram, Facebook, Twitter, and Tik Tok to market your business.
Promotions and announcements:

 

To create awareness for your products, consider developing promotions and making regular announcements about them. Informing customers of new products you plan on releasing can create excitement. Furthermore, you can consider creating promo codes to help drive sales.
Embrace uniqueness:

 

A key way to highlight the strengths of your business is to embrace the qualities that make it unique. In an online market flooded with options, you must find ways to stand out and gain a competitive edge. Taking a long look at your business and what differentiates it from the rest is a valuable way to understand your customers and develop ways to market towards them.