How to Start a Butcher Shop
What Is a Butcher Shop?
A butcher shop is a retail store that sells meat and poultry products, but may also sell other products such as fish. Butcher shops process and package the meat on-site, resulting in fresh, great-tasting products. However, butcher shops typically don't have a slaughterhouse on-site and will get fresh meat from another source.
Butcher shops can become a key part of local communities, supplying residents with fresh meat and healthy sources of protein. For prospective owners, starting a butcher shop is a great opportunity as it allows you to corner a niche market. Americans are known for their love of meat, and meat-lovers will almost always be willing to go above and beyond to acquire high-quality cuts of meat.
Starting a Butcher Shop
Starting a butcher shop business seems complicated at first glance, but breaking down the process into individual steps makes everything easier. We've created a 9-step guide to starting a butcher shop, covering everything you need to prepare for before you start your business.
1. Choose a Butcher Shop Concept
Choosing what type of butcher shop you want to open is one of the most important steps in the planning process because it will determine what your target market is. During the conceptualizing phase, you will decide what type of products you serve your customers, as well as what industry trends you incorporate into your business. There are several different concepts that you can choose from, each targeting a different section of the market and serving different products.
Traditional Butcher Shop
Traditional butcher shops specialize in selling various cuts of meat and their complementary products. You'll find meats such as beef, pork, and chicken at a traditional butcher, allowing customers to get all their meat products in one location. Most traditional butcher shops also offer other food options such as charcuterie and prepare their own cooked meat products.
Vegan Butcher Shop
A vegan butcher shop prioritizes selling meat-free products and plant-based alternatives. The idea of a vegan butcher shop is new and growing, as alternative diets like veganism continue to rise in popularity.
Some common products sold at vegan butcher shops include plant-based "meats" such as vegetable burgers and dairy-free complementary items such as vegan cheeses. The idea of a vegan butcher shop may seem contradictory, but starting a vegan butcher shop allows you to stand out from the competition and cater to alternative diets.
Halal Butcher Shop
Halal butcher shops are a foodservice trend that is rising in popularity, mostly in communities that have strong Muslim cultural roots. Halal butcher shops serve customers the same way traditional butcher shops do, however, the method of slaughtering animals differs. Halal is Arabic for "permissible", and Halal meat means the animal was slaughtered according to Islamic law.
For meat to be considered Halal, the animal has to be healthy at the time of slaughter, have its blood completely drained from its carcass, and be approved by the Halal Food Authority. Opening a Halal butcher shop as opposed to a traditional butcher shop allows you to expand your markets and should be considered if you're opening a butcher shop in a location with a large Muslim population.
---
2. Write a Butcher Shop Business Plan
When opening any business, writing an effective business plan is essential. With a business plan, you can outline your butcher shop's goals, projections, and plans. This document will be vital in the future, as it will provide banks and investors all the information they need before they decide to fund your butcher shop. If you want to create an effective in-depth butcher shop business plan, you should include these sections:
Executive Summary

 

- A summary of the information included in your business plan that highlights your goals and why your butcher shop is worth investing in.
Company Description

 

- Provide an overview of your company that is similar to your executive summary, but go more in-depth when it comes to projections and strategies.
Concept and Menu

 

- Describe what concept you have chosen for your butcher shop and what food items you will serve.
Management and Ownership Structure

 

- Go into detail about what type of ownership structure your butcher shop will have and discuss the shop's management hierarchy.
Employees and Staffing Needs

 

- This section outlines the employees and staff that are required to run your butcher shop.
Marketing and Competitor Analysis

 

- In this section, identify target demographics and markets and analyze potential competitors to your business.
Advertising and Marketing Strategies

 

- This section should outline potential

 

marketing and advertising strategies

 

that could be used to reach your target demographics.
Financials

 

- Use this section to analyze financial projections, list expenses and costs, and discuss how long until the business becomes profitable.
If you're looking for a deep dive into how to write a business plan, check out our in-depth business plan guide for more information.
---
3. Secure Butcher Shop Funding
A solid business plan for your butcher shop should help you secure loans and investments easier. Funding your butcher shop may seem expensive at first, but there are plenty of ways that you can come up with the money. Your business plan should outline how much you need for funding and will allow you to determine the best way to approach funding your butcher shop. Here are some of the most common funding options available to prospective butcher shop owners:
Small Business Loan

 

- A small business loan is a special type of loan that is easier to obtain and has favorable interest rates. This type of loan can provide you with the funding you need to get your butcher shop off the ground, without having to give up equity or pay high-interest payments.
Traditional Commercial Loan

 

- If you need a lot of funding for your butcher shop, a traditional commercial loan may be required. Traditional commercial loans will provide you with more money, but the application process will be stricter, and interest rates may not be as favorable as they are with small business loans.
Private Equity Financing

 

- Private equity financing involves you giving up equity in your butcher shop in exchange for a monetary investment. Private equity isn't a loan, so you won't have to pay anything back, but be careful about giving away too much equity and control of your butcher shop.
Self-Funding

 

- If you have any money saved up, you could utilize those savings and put them towards your butcher shop. Self-funding your butcher shop allows you to avoid giving up equity and paying high-interest rates, but it can be risky to put up your personal savings for funding.
Crowdfunding

 

- With crowdfunding, a community of people can pool their resources together and reach a set monetary goal. In return for their donations, crowdfunders are usually given special deals or exclusive products that can't be obtained normally.
---
4. Pay Butcher Shop Start-Up Costs
When starting your butcher shop, you'll run into various start-up costs that you'll have to cover. Starting a butcher shop can cost anywhere from $20,000 to $45,000. This is a ballpark estimate, as many factors can influence start-up costs. These factors include where your business is located, whether you're buying or renting, and what type of equipment you stock your business with. Despite some variance in start-up costs, here are a few items that you should prepare to pay for as you start your butcher shop:
Down Payment

 

- The cost of the physical butcher shop location will be one of the biggest start-up costs you'll have to pay. A loan can be taken out to help cover the expense, but a down payment of 15-20% of the loan's principal will be required.
Remodeling and Construction Costs

 

- When you purchase a brick-and-mortar location for your butcher shop, it won't be ready right away. To get your butcher shop in shape to serve customers, you'll have to sink a few thousand dollars into remodeling and construction costs.
Butcher Equipment

 

- To prepare meat, your butcher shop may require equipment such as meat slicers,

 

indoor smokers, food dehydrators, meat tenderizers, and

 

meat grinders.
Butcher Shop Inventory

 

- A butcher shop needs to be stocked with different types of meats, as well as different cuts of each type of meat to serve customers.
Butcher Shop Supplies and Disposables

 

- Supplies like

 

butcher paper, twine, food wrap, containers, and utensils are not pricy, but their costs can add up over time.
Employee Wages

 

- There are many different types of employees needed to run a butcher shop. These employees need to be compensated and paid wages.
Marketing

 

- In order to attract new customers and reach your target market, you'll have to invest in marketing and advertising campaigns.
Permits and Licensing

 

- To open a butcher shop, you'll have to acquire various permits and licenses. Application fees and other expenses can arise during this process.
---
5. Acquire Butcher Shop Permits and Licenses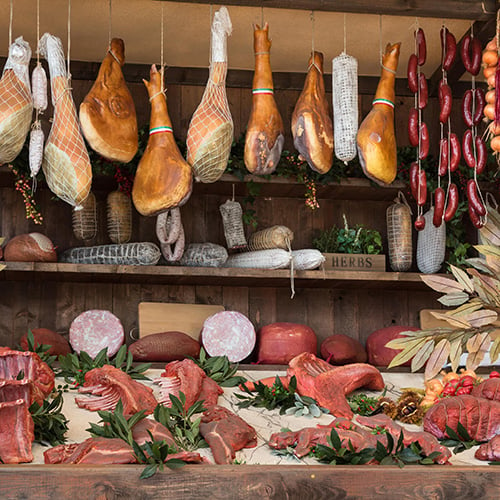 Before opening your butcher shop, you'll have to apply for and receive a variety of permits and licenses. These important documents cover many aspects, including business identification purposes and the authorization to sell certain products. A few of the most important documents are listed below. Check your local laws to see which permits and licenses are required in your location.
Business License

 

- A business license is a permit that is issued by the government that authorizes you to operate your business. Business licenses can vary based on location and industry, meaning you may have to obtain multiple business licenses at the local, state, and federal levels.
Employee Identification Number

 

- An employee identification number is required for every business in the United States. Your EIN is unique to your business and is used for identification purposes with the IRS.
Seller's Permit

 

- A seller's permit authorizes a business to collect sales tax. Requirements for seller's permits vary based on local and state laws, so be sure to research relevant laws.
Health Permit

 

- A health permit is required for any business that sells cooked or prepared foods to customers and outlines

 

standards of safety and sanitation

 

for your business. Health permits are under the domain of county health departments, meaning laws regarding health permits can vary depending on your location.
Retail Food License

 

- In some locations such as Pennsylvania, retailers that sell or serve food directly to the customer must have a retail food license. Double check your local laws before you start serving customers.
Meat Establishment License

 

- In some locations, you may have to apply for a meat establishment license, giving your state's department of agriculture the authority to regulate and inspect the processing of meat.
---
6. Find Butcher Shop Locations
Choosing a location for your butcher shop is a critical step in setting your business up for future success. A quality butcher shop location allows you to reach customers easily and increase sales, boosting the success of your business. Before any decision is made about a final location, you should conduct a thorough location analysis. Here are some key qualities you should look for while searching for a location for your butcher shop:
Size

 

- Your butcher shop needs to be large enough to house equipment, store meat products, and display items for sale.
Traffic

 

- Butcher shops may struggle to initially attract customers and gain traction, so having a location that receives lots of foot and vehicle traffic can be a great way to get your name out and attract new customers.
Ease of Delivery

 

- A butcher shop will frequently receive shipments of meat products and other supplies, so consider ease of access for delivery trucks when choosing a location.
Anchor Stores

 

- The main competitors to butcher shops include supermarkets, so try to avoid settling in a location that uses a major supermarket as an anchor store.
---
7. Hire Butcher Shop Staff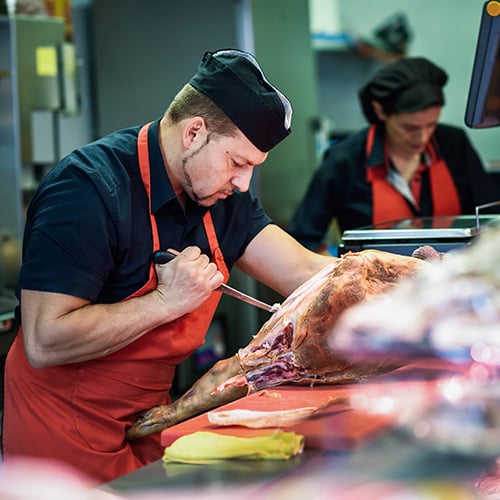 A butcher shop has many moving parts, and as a result it needs several different staff members to operate. Some of these employees focus on handling and preparing meat products, while others are customer-facing. When starting a butcher shop, here are some of the most important positions you should look to fill:
Butchers

 

- Butchers are the most important part of your staff. Your butchers will be the ones cutting and trimming meat, as well as preparing meat for sale through weighing and wrapping.
Managers

 

- A

 

managerial staff

 

may be required to monitor the butcher shop when you're not around and to assist in ensuring everything runs as intended.
Front-of-House Staff

 

- A butcher requires some

 

front-of-house staff

 

to take orders and check people out. If you plan on offering a full menu and a dine-in seating area, then you will need to hire servers as well.
Cooks/Chefs

 

- If you plan on offering cooked or prepared food items, you're going to need to hire a few cooks to follow recipes and prepare dishes.
Packers/Loaders

 

- A butcher shop will frequently receive shipments of meat and other supplies, meaning having staff members dedicated to unloading and packing shipments may be required.
---
8. Market Your Butcher Shop
Marketing and advertising your butcher shop is required to get your name and brand out to the public. With so many advertisements competing for attention in today's business climate, it can be very hard to stand out from the competition. If you want to market your butcher shop and reach your target market, check out these marketing tips:
Integrate Yourself Into the Community

 

- A successful butcher shop integrates into its local community and forms long-lasting connections with community members. Ingratiate yourself to your community by hosting events, supplying local parties, and getting to know local community members.
Improve Digital Presence

 

- Websites and programs such as OpenTable,

 

Yelp, and Google My Business are vital to the growth of small businesses. Ensure that your butcher shop is registered on these sites and utilizes them in order to maximize brand exposure.
Create a Strong Website

 

- In today's digitized world, having a strong website is critical to growing your business. There are several platforms available to businesses that make

 

creating a solid website

 

a simple task. With a solid website, customers will have a location where they can learn about your business and order products.
Offer Promotions and Sales

 

- To attract new customers to your butcher shop, try offering special deals and promotions to customers. Offering high-quality or unique meats to prospective customers at a great deal is a fantastic way to get new people in the door. The idea is to attract new customers with your sales and promotions, and then rely on your great product and business to retain them.
Establish a Loyalty Program

 

- Retaining customers is an important part of business, and

 

establishing a loyalty program

 

is a great way to boost customer retention. Try offering special member statuses and frequent-shopper discounts to individual customers. When it comes to supplying meat and food to restaurants, try offering discounts to clients that frequently purchase large bulk orders.
---
9. Opening Your Butcher Shop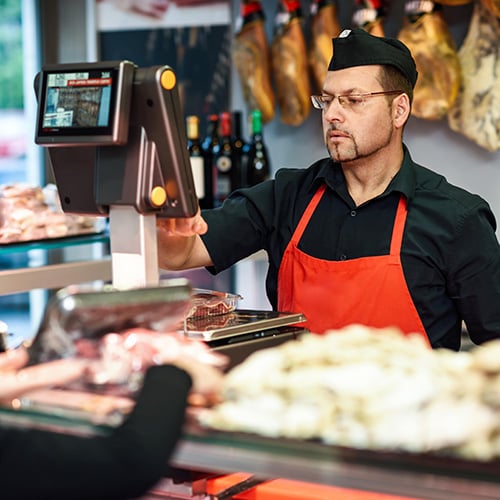 As the process of starting your butcher shop winds down to a close, you'll have to have some type of special opening event to mark the occasion. The opening of your butcher shop is vital because it introduces your business to the community and sets the tone for success. Depending on what type of butcher shop you're starting, there are a few different opening options that you can choose from.
Soft Opening
With a soft opening you can ensure that everything with your butcher shop is ready to go, and give your staff a helpful simulated experience. During this time you can get valuable feedback on aspects such as your menu offerings and the pricing of your products. Additionally, a soft opening allows you to invite important members of the community, giving you a chance to introduce your butcher shop and establish critical relationships.
Grand Opening
The opening of your butcher shop marks a special occasion, which means a grand opening is in order. Grand openings are events that involve exclusive deals, special events, and large crowds. Having a grand opening is an effective way to generate hype and introduce your butcher shop to prospective customers. This will be their introduction to your business for many people, so leaving a positive first impression with a great grand opening is important.
---
The consumption of meat in the United States is still very high even with the emergence of alternative diets like vegetarianism and veganism, meaning butcher shops are still great business opportunities. In fact, these trends offer a great opportunity for butcher shops to expand their offerings and capitalize on market trends with new products. If you're looking to open a shop that can become a key part of your local community as the premier meat supplier, opening a butcher shop is a great option.